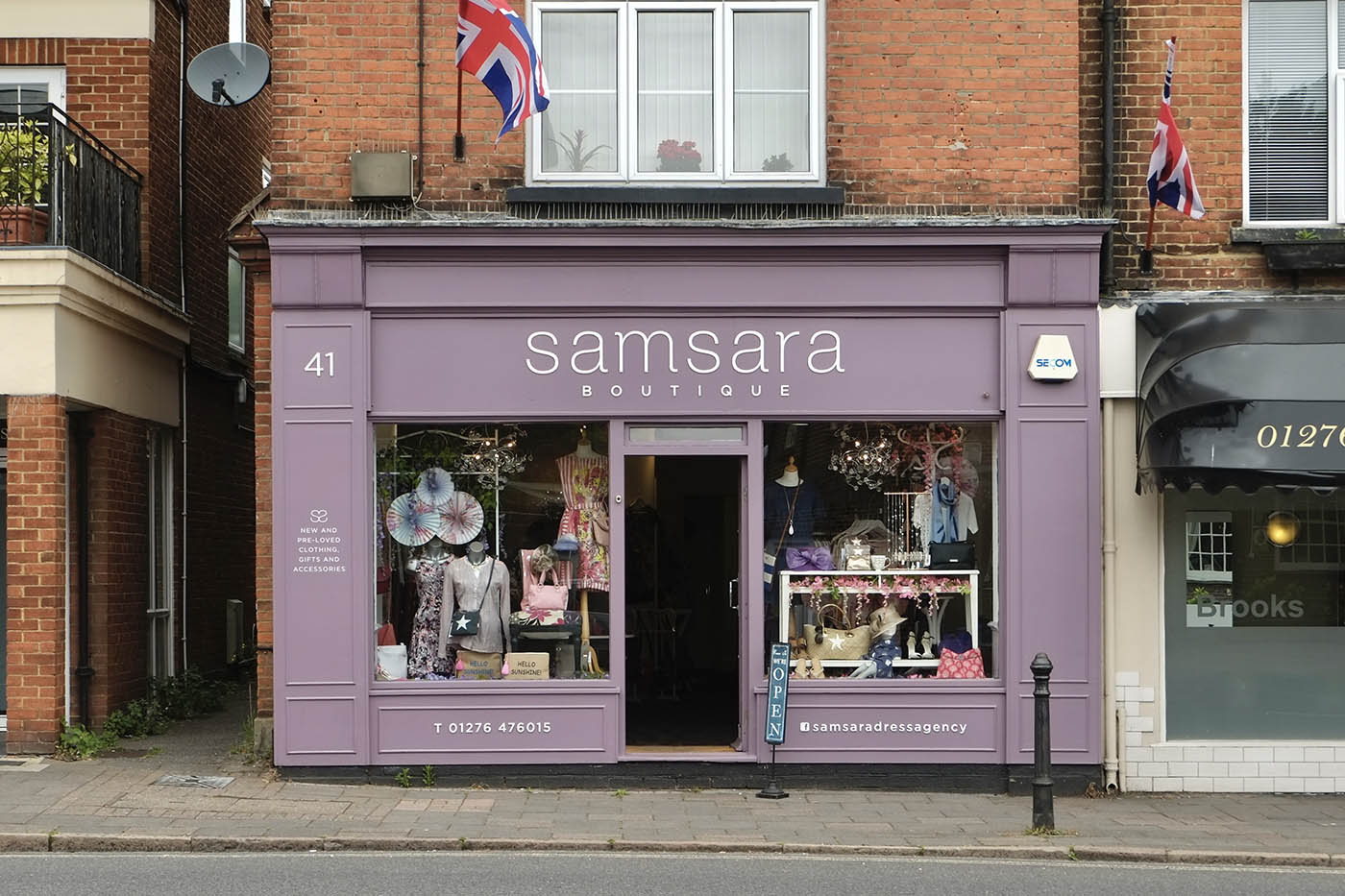 Samsara retail branding and E-commerce website
I created the branding for Samsara a few years ago whilst working as Nomo Strategic Marketing and Design. Emily Browne, the owner, wanted a name and logo to launch her dress agency in Bagshot Surrey.
Early in 2017 I dropped into the shop to check that all was OK and to ask if there was anything I could do. Emily explained that she was moving to a new, larger premises a few doors up in Bagshot High Street and needed some help with exterior colour and application of the branding.
I suggested a number of signage schemes and alternative colours ranging from subtle to vivid hues. After checking paint samples, Emily and I agreed on a colour named 'Dusted Fondant' for the shop exterior. I obtained estimates from signage companies for the manufacture and application of the laser-cut acrylic lettering from my scaled artworks. The entire shopfront was painted before the installation of signage.
Samsara opened in May 2017 and its strong high street presence is now attracting far greater numbers of customers than at the previous premises.
Emily says, "I'm so pleased Nick has designed the new shop front for Samsara – I've always loved the original logo that he created. Nick can be trusted to listen to what I want and come up with spot on brief designs. But, also to challenge my opinion and gently push his ideas to achieve a really professional, well detailed scheme. I'm really proud of how Samsara stands out in Bagshot High Street due to the effective design."
The next strategic step for Emily to develop the business was to take the brand online and sell her merchandise to a wider audience through a bespoke e-commerce site. Design work on the new site commenced in September 2017 and the build was undertaken by my digital partner Taybridge Consulting. We trained Emily on how to update content, use the payment gateway and shipping tools and went live in mid October.
View the Samsara Fashion website here.